We are always working on the innovation and optimization of our technologies. Under this aspect and considering customers´ requirements, the new ECOS S was developed. The individual strengths of the RS styles and the best features of the classic styles were combined in a new ECOS model", Christiane Bonetsmüller, founder of Bonex Explorationssysteme, declares the new development of the ECSO S.

Previously the ECOS models were the classics in the DPV range and convinced by their versatility, high performance and an excellent price-performance ratio. The RS models offered moreover additional quality details that were not available at the previous ECOS styles.

The most significant difference of the ECOS S is that it combines the compactness of the ECOS models and the professional criteria of the RS models. The ECOS S offers a continuously variable speed control, as well as the Quick-Shift-Function and an Emergency-Switch. These functions, until now, were reserved for the RS models. In addition, he is coming up with a bit more power – with a thrust of 270 N the ECOS S reaches speeds of 70 m / min. Furthermore a single-hand-use is possible, which gives the diver expanded flexibility in dealing with additional equipment. Summarizing the ECOS S is thus much more attractive for the application in cave diving, because now it meets requirements that are necessary in this special type of diving.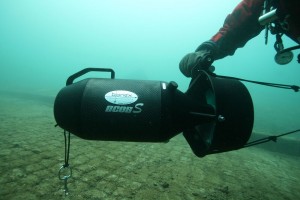 Nevertheless, the user of the ECOS S must not renounce on the proven benefits of the ECOS+. Here the new model scores equally with the light middleweight of 15 kg including battery and trim. Equipped with batteries of the latest generation, cruising-fun of up to 200 minutes or a range of up to 6 km is possible. In order to be prepared for its diverse application areas, the tube and the shroud are made of impact-resistant and durable Carbon – so the scooter is very sturdy and tolerant against damages. Therefore the ECOS S is the ideal companion for Deep-, Wreck-, Rebreather- and now also Cave-dives.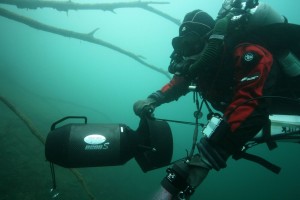 In summary, the new model ECOS S brings together all best of features of the Universal- and Performance Line, what makes him the professional companion for any kind of dives. Therefore, it replaces the standard models Reference and Discovery. The next higher power level and step in the specified operating range after the ECOS S are the models Reference RS and Discovery RS from the Explorer line.

BONEX ECOS S, available from April 2016, price VK 5290, – €
(sf)