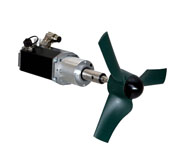 Features
High efficiency
Low noise
Stepless speed regulation
Encapsulated motor
Temperature switch-off
Speed monitor
Power monitor
Total discharge protection
Protective propeller cut-off
Drive motor
Previously, DC motors were typically used as brush or collector motors. Because of the open sparks at the brushes these must be fully encapsulated from the battery chamber. Brushless drives, in this case servos, are installed exclusively in Bonex Scooters. These also exhibit a higher efficiency in addition to an encapsulated design. In addition to the simple regulation, various motor parameters (temperature, current strength, voltage, speed, acceleration and brake ramps) can be influenced. The optimised settings increase the convenience and ensure a long life of the motor. The drives used by Bonex are designed for an industrial useful life of at least 10,000 operating hours. This ensures a reliable operation of the Scooter over a long time period.
Shaft seal
The drive shaft leads from the motor to the propeller through the housing. The water pressure must be effectively insulated against undesirable penetration of the inside with simultaneous unbraked rotation of the shaft. Bonex uses high-pressure sliding ring seals for this. These are pressure stable and also withstand extreme conditions (such as sand, salt, dirt). O-rings or shaft sealing rings are unsuitable for this application so we do not use them.
Propeller with jet
The most sensitive functional part of the Scooter is the propeller. Its job is to convert the motor power into thrust as efficiently as possible. A top class Scooter therefore features a high efficiency which is achieved preferably by a rigid propeller. This is optimised both in terms of the jet and the motor speed. The propeller can be unscrewed and screwed back on easily underwater if a line gets tangled.
Speed regulation
The most effective form of speed change is the rev speed regulation. Bonex Scooters regulate the propeller revs directly by the servo drive. The propeller speed is set by a knob and changes the end speed of the Scooter. These settings can also be made conveniently on the move. This enables a diving team to adapt quickly and easily to changing conditions.