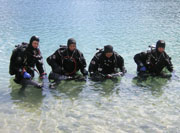 Introductory
DPV Pilot
DPV Technical Pilot
Scooter riding is fun and extends your radius of action. Experience diving in a new dimension.
All the basics of correct handling of the DPV must be learned to be able to control the device in all diving situations and to dive safely. We can offer you the following options:

Introductory
The Introductory is a detailed introduction to theory and practice. This variation is offered for divers who want to get to know the Bonex Scooter, for customers who buy a Scooter or for divers who want to hire a Bonex Scooter from us or one of our partners.
Course - DPV Pilot
The DPV Pilot course is aimed at divers who want to learn and practise both technology and handling. It enables the diver to service his Scooter regularly and to operate the Scooter under water safely in all common situations. The course also includes safety and emergency procedures.
Course - Technical DPV Pilot
The Technical DPV Pilot course for advanced divers assumes previous experience with Scooters. The special necessary topics of Scooter use in technical diving are included here. Decompression, emergency and bail-out scenarios, in particular, are studied and trained in teams.