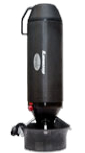 Features
40 kg weight including battery and trim
Runtime up to 1040 min
Up to 40 km range
4 independant Li–Ion battery packs which direct switch selection
Emergency switch
Sealed motor
Neutral buoyancy at any depth
Variable speed
Quick shift
One handed operation
Carbon tube
Carbon shroud
Description
The compact Infinity RS comes standard with four redundant Li–Ion battery packs. Each battery pack can be selected manually via the main switch and, therefore, offers maximum security. By default, this professionel scooter is also equipped with the unique emergency control switch. The emergency switch is part of a separate circuit which, in the event of an electronic malfunktion, will maintain the driving mode. Especially cave divers appreciate this security feature. With a runtime of up to 1040 minutes and a speed of up to 90 m/min, the Infinity RS is the world leader in performance. The Infinity RS only weighs 40 kg (incl. trim and batteries) and can, therefore, be easily transported to any remote terrain. Even dives with extensive equipment can be easily undertaken. Dive to unexplored regions with easy handling, high performance and highest safety standards. Dive BONEX!
Technische Daten
Model
Infinity RS
Dimensions
Ø 218/300 mm
L= 1260 mm
Weight
incl. battery and trim
40 kg
Operating depth
150 m
Runtime full speed
360 min
Runtime "cruising"
1040 min
Operating rang up to
40 km
Thrust
340 N
Speed
90 m/min
Number of batteries
4
Selectable betw. battery 1, 2, 3, 4
●
Main switch
●
Variable speed
●
Temperature control
●
Protective propeller cut-off
●
Power monitoring
●
Total discharge protection
●
Soft start
●
Update capability
●
Emergency switch
●
Boost funktion/Quick Shift
●
Quick charger QCS
●
Tow Cord
●
Torque control
●
System handle
●
Conversion to other model possible
●
Available
immediately
● standard
○ optional
.